The European Bioenergy Day campaign aims to shed light on the increasingly central role sustainable biomass is playing in EU Member States' energy mix in greening transport, industry and buildings, and in guaranteeing energy security .
It provides key facts on biomass and the bioenergy industry and celebrates people, projects and companies that are contributing to achieving European carbon-neutrality.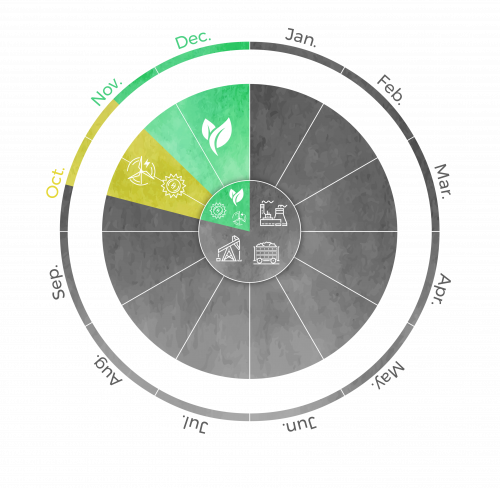 EU's Annual Energy Consumption
Let's spread Europe's energy consumption across the calendar and count: In 2021, the EU27 relied 282 days on non-renewable energy from January 1st to October 8th. From October 9th, renewables provided for the remaining 84 calendar days with clean energy.
This year, it is estimated that bioenergy contributes with a staggering 52 days, which means that from November 8th to December 31st, Europe could rely on bioenergy only for all of its energy needs!
How many days can your country rely on bioenergy only?
You want to know where bioenergy comes from, how it works and why it is essential for a green future in under 6 minutes? In our video series Bioenergy explained you'll find the answers.
Test your knowledge about bioenergy!
European Bioenergy Day Partners
The European Bioenergy Day campaign is locally represented by over 30 national bioenergy associations and supported at EU-level by a dozen sectorial organisations involved in the development of bioenergy throughout the value chain:
The campaign is powered by Bioenergy Europe and relayed across Europe by both national and international partners supporting the belief that bioenergy is more than a renewable energy source, it is also a reliable path that will lead Europe to achieve its renewable energy transition in the shortest span of time.
RT @IEABioenergy: Active forest management in the boreal forest performs better in carbon storage than unmanaged forests. Harvested carbon…
Mar 30 2023
📊 #DYK that #pellet consumption for heat in the #EU reached a record high of 19,2M tonnes in 2021? 💡 #biomass provides off-grid #energysecurity and is reliable + storable! *Thanks go to @SGS_SA + @valmetglobal + @hawkinswrightUK https://t.co/JpDFvM0c0a
Mar 30 2023
📊#DYK that #pellet consumption for heat in the #EU reached a record high of 19,2M tonnes in 2021? 💡#biomass provides off-grid #energysecurity and is reliable + storable! *Thanks go to @SGS_SA + @valmetglobal + @hawkinswrightUK https://t.co/hYy0HdU2Ct
Mar 30 2023
RT @greensofa_betd: "Heat has always been the elephant in the room", @irenedipadua @bioenergyEU 🇧🇪 said: "People still think of #energy as…
Mar 30 2023
RT @markuspieperMEP: #RED3 just reached agreement with Swedish Presidency: 42.5% binding renewable target by 2030. Faster approval processe…
Mar 30 2023
📢Our very own @irenedipadua was at the #betd23 conference today! 🗨️"The fact that subsidies are still going toward fossil fuels is striking - we want to see them banned." #bioenergy #heating #energy #Energiewende #energytransition #GreenFuture https://t.co/cwi8QpfX2e
Mar 29 2023
🚀Today we launch our #CircularChoices campaign! 📢We draw attention to the policy choices that #EU policymakers now face + urge them to support our contribution towards enabling the transition to a circular♻️#bioeconomy Learn more👉 https://t.co/CbRcWqf98z
Mar 28 2023
RT @greensofa_betd: #Welcome to the first day of #betd23! #JointheDialogue ➡️via on-site or on Twitter, LinkdIn or YouTube. #renewables #e…
Mar 28 2023
🔎Searching for a new #podcast episode for this weekend's downtime? 👂Then listen to Manolis Karampinis explaining how #biomass contributes to zero-carbon #energy networks! 👉 #bioenergy #agrobiomass #biofuels #industry #energytransition
Mar 24 2023
RT @BecoopH2020: While we plan for our next webinars, this is also your last chance to apply & become a "BECoop follower case" to receive s…
Mar 24 2023
RT @helloheatpumps: 📢 Exciting news! The first newsletter for the @REDI4HEAT project will be out in April! Want to learn more about how to…
Mar 24 2023
#DYK that #bioheat is 84,4% of renewable #heating and cooling in the #EU? 📊Bioheat is made up of solid #biomass (90%) + waste + biofuels + biogas! *Thanks go to @SGS_SA + @valmetglobal https://t.co/wbtQWDM6Cz
Mar 23 2023
📢Out now: RED - the devil is in the details!📄 🔎Read in full👉 💚Thanks go to @BioenergyInfo! #REDIII #renewables #energy #forest #biodiversity #bioheat #RES
Mar 22 2023
📢@irenedipadua will speak at the #betd23 conference on 29 March at 15:30 CET! 🎥Watch the live stream & #JointheDialogue 👉 #bioenergy #heating #energy #Energiewende #energytransition #GreenFuture https://t.co/K8eoF7Bgrn
Mar 22 2023
#DYK that #bioenergy is the biggest renewable #energy provider of direct and indirect💼employment? 💚This #ForestDay we call for #sustainableforestry and healthy forests - for healthy people, a healthy economy and a healthy🌍planet! #IntlForestDay #InternationalDayOfForests https://t.co/AyJ9ueC0HZ
Mar 21 2023