The European Bioenergy Day campaign aims to shed light on the increasingly central role sustainable biomass is playing in EU Member States' energy mix in greening transport, industry and buildings, and in guaranteeing energy security .
It provides key facts on biomass and the bioenergy industry and celebrates people, projects and companies that are contributing to achieving European carbon-neutrality.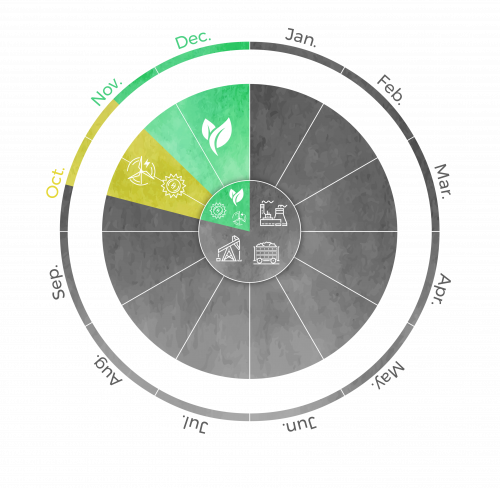 EU's Annual Energy Consumption
Let's spread Europe's energy consumption across the calendar and count: In 2021, the EU27 relied 282 days on non-renewable energy from January 1st to October 8th. From October 9th, renewables provided for the remaining 84 calendar days with clean energy.
This year, it is estimated that bioenergy contributes with a staggering 52 days, which means that from November 8th to December 31st, Europe could rely on bioenergy only for all of its energy needs!
How many days can your country rely on bioenergy only?
You want to know where bioenergy comes from, how it works and why it is essential for a green future in under 6 minutes? In our video series Bioenergy explained you'll find the answers.
Test your knowledge about bioenergy!
European Bioenergy Day Partners
The European Bioenergy Day campaign is locally represented by over 30 national bioenergy associations and supported at EU-level by a dozen sectorial organisations involved in the development of bioenergy throughout the value chain:
The campaign is powered by Bioenergy Europe and relayed across Europe by both national and international partners supporting the belief that bioenergy is more than a renewable energy source, it is also a reliable path that will lead Europe to achieve its renewable energy transition in the shortest span of time.
😊Very excited to continue this collaboration!
Jan 31 2023
RT @BecoopH2020: Did you know? #EUawarenesscampaign 🧑‍🤝‍🧑🔋Energy communities: what are they? 👉Which challenges do they face? 👉 Which s…
Jan 24 2023
📢 Tune in this Thursday! 🗓 26-Jan 🕒15:00 - 17:00 Our webinar will focus on the European Commission's latest proposal for the first 🇪🇺-wide voluntary framework for the certification of high-quality #carbonremoval 👉Registration: https://t.co/H3HBHY29Hr
Jan 24 2023
@ForestDefence @irenedipadua We do need sound sustainability criteria to make sure the environment and our forests are protected. These criteria are already the strictest in place and also need to consider socio-economic factors. Our door is always open if you like to discuss this more in-depth.
Jan 19 2023
🙌 Today it was a full house at #CEBC2023! We would like to congratulate the organisers on a successful second day and are delighted to have attended today's sessions! Our Secretary General, Jean-Marc Jossart, shared his perspective on #bioenergy in the #GreenDeal. 🌲 https://t.co/kq4T846Fht
Jan 19 2023
RT @IEABioenergy: Whatever #sustainability paths are chosen, modern bioenergy will be part of the picture. The work of more than 200 expert…
Jan 19 2023
Wrapping up the day was scientist Hubert Röder presenting some insightful info: 🌿Unmanaged forests will reach saturation by 2050-60 at latest; sustainably managed forests perform better 🌿Mixed forests in Europe ensure forest resilience #sustainableforestry #EPF2023 #CEBC2023 https://t.co/A1BER1TlaJ
Jan 19 2023
What a successful 1⃣ edition of #EPF2023, taking place in conjunction with #CEBC2023! 👩‍🏫In the context of REDIII, our Policy Director highlighted that we need 🔸sound sustainably criteria 🔸local & sustainable solutions to increase Europe's independence from foreign fossil fuels https://t.co/xYJqQpHDsQ
Jan 19 2023
📢 Join our webinar! 🗓 26-Jan 🕒15:00 - 17:00 We will focus on the European Commission's latest proposal for the first 🇪🇺-wide voluntary framework for the certification of high-quality #carbonremoval 👉Registration: https://t.co/kN1OLtP4rF
Jan 18 2023
📢 1 day to go! 📢 The first European Pellet Forum opens its doors tomorrow! We hope you'll be there with us when our Policy Director @irenedipadua will share her views on the ongoing policy discussions concerning #bioenergy. 🎫 Get your ticket here: https://t.co/rLGz7MpSYa
Jan 17 2023
RT @gustavmelin: An over-belief in electrification is harming the climate @IATA @Transportft @transenv @AlarikSandr…
Jan 17 2023
RT @bertrandpiccard: I'm inspired. I spent yesterday morning with renewable energy and energy efficiency associations in Brussels. If Eur…
Jan 16 2023
📢Our final 2022 Statistical Report on Landscape is out now! 💡With key insights into 🇪🇺 energy sources, energy production and consumption, biomass trade and sector employment Read More👉 Supported by @valmetglobal & @SGS_SA https://t.co/82HpVf7P93
Jan 13 2023
⏳Last chance to register for the 2022 Statistical Reports: The Overview #webinar where the most relevant statistics on #bioelectricity, #bioheat and the #pellet sector in the #EU will be presented! 📅 When? 👉 Tomorrow at 16:00 CET Join us👉 https://t.co/qiQ8vbQJDw
Jan 11 2023
📢Register today for the 1st edition of the brand new European Pellet Forum! 📅 When? 👉18 January 2023 📍 Where? 👉Graz, Austria Join us 👉 https://t.co/bx576EBhVZ
Jan 10 2023